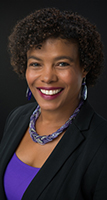 Terri E. Givens is the Provost of Menlo College in Atherton, California and was Associate Professor in the Government Department at the University of Texas at Austin. She was formerly Vice Provost, International Activities and Undergraduate Curriculum, Director of the Center for European Studies, and Director of the France-UT Institute for Interdisciplinary Studies. She received her Ph.D. from the University of California, Los Angeles, and her B.A. from Stanford University. Her academic interests include radical right parties, immigration politics, and the politics of race in Europe. She has conducted extensive research in Europe, particularly in France, Germany, Austria and Denmark.
She has received Fellowships from the Wilson Center, the Ford Foundation, the University of California, Berkeley, Chancellor's Postdoctoral Fellowship and various other grants and fellowships to support her research in Europe. Her book, Voting Radical Right in Western Europe, was published in Fall 2005 with Cambridge University Press. She has edited the book Immigration Policy and Security with Gary Freeman and David Leal. Her book Legislating Equality: The Politics of Antidiscrimination Policy in Europe appeared in Spring 2014 with Oxford University Press. Her articles have appeared in Comparative Political Studies, the Journal of Common Market Studies, the Policy Studies Journal, and Comparative European Politics. She is an active member of the American Political Science Association, the European Union Studies Association, and the Council for European Studies.  She is a regular columnist with Inside Higher Ed at http://www.insidehighered.com/advice/running.
Terri is an avid runner, and enjoys many outdoor activities in Austin. As the proud mother of two handsome young boys, Andrew and Brandon, she also spends a great deal of time on the soccer fields and investigating the flora and fauna of the area. In her spare time, she gets out to listen to jazz, the symphony, and watches dance performances with her husband, Mike Scott.
Videos Available from Terri Givens: "EU/US Relations"