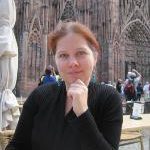 Dr. Melissa Byrnes is an Associate Professor of History at Southwestern University in Georgetown, Texas. She focuses on Modern European History, France and the French Empire, Migration, Human Rights, and Humanitarianism.
She is finishing a book manuscript that addresses how and why local community actors in France began to advocate for North African migrant rights in the decades following the Second World War. She is also working on a project about Franco-Portuguese interactions in the 1960s, focusing on Franch activism against the human rights abuses of the Salazar regime, as well as diplomatic relations during decolonization.
She believes strongly in a rigorous, interactive, and Socratic classroom environment. Her courses confront issues that have been hotly debated for centuries; her goal, therefore, is to provide her students with a vocabulary and an analytical framework that allow them to grapple with these questions on their own. She expects them, in many cases, to leave her class with more open questions than they arrived with—her job is to complicate their understandings of the world, to break down preconceptions and easy assumptions. As she often reminds her students, she cares far more about how they think than what they know.
Videos Available from Dr.Byrnes: "The History of Art Looting"